FDTC 2013: Workshop Venue
Location
FDTC 2013 is co-located with CHES 2013 (August 21-23, 2013) and CRYPTO 2013 (August 18-22, 2013).
The workshop will be held on the campus of the University of California, Santa Barbara (UCSB) on Tuesday, August 20, 2013, in the theater of the MultiCultural Center (MCC building - next to the Corwin Pavilion - University Center). See the map below (click to enlarge):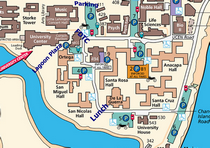 See also the UCSB map directory and the UCSB detailed map.
Directions
The 22 Parking Structure is the closest parking for FDTC 2013 on Tue 20 August, 2013 (workshop day). Drivers can go directly there and purchase a daily permit for $8.00, then walk to the Multicultural Theater. Directions to reach UCSB by car are:
From the South: Take US-101 to the Airport/UCSB/Hwy. 217 exit (appx. 8 mi. north of downtown Santa Barbara). This expressway will take you directly into campus. As you approach the roundabout at the campus entrance, stay to the far right to exit onto Mesa Road. Turn left at the third traffic light onto Ocean Road. Proceed through three traffic lights and go to the 22 Parking Structure on your left.
From the North: Take US-101 to the Los Carneros Rd. exit. Turn right on Los Carneros Road and proceed 2 miles to El Colegio Road. Turn left on El Colegio Road and proceed about one-half mile, at which time you will enter the UCSB campus. Turn right at the second traffic light onto Ocean Road, and proceed to 22 Parking Structure on your left.
Accommodation
Several hotels are available in the neighbourhood of UCSB. On-campus housing packages are also available, see On-Campus Housing.